Second Cervical Spine(C2): The axis is the second cervical vertebra, commonly called C2. The axis has a large vertebral body, which contains the odontoid process (dens). The odontoid process articulates with the anterior arch of the atlas via its anterior articular facet. The axis is composed of a vertebral body, pedicles, laminae, and transverse processes. The second cervical spine articulates with the atlas via its superior articular facets, which are convex and face upward and outward. It plays an important role in rotation of the head with the majority of movement occurring around the dens and at the atlanto-axial joint.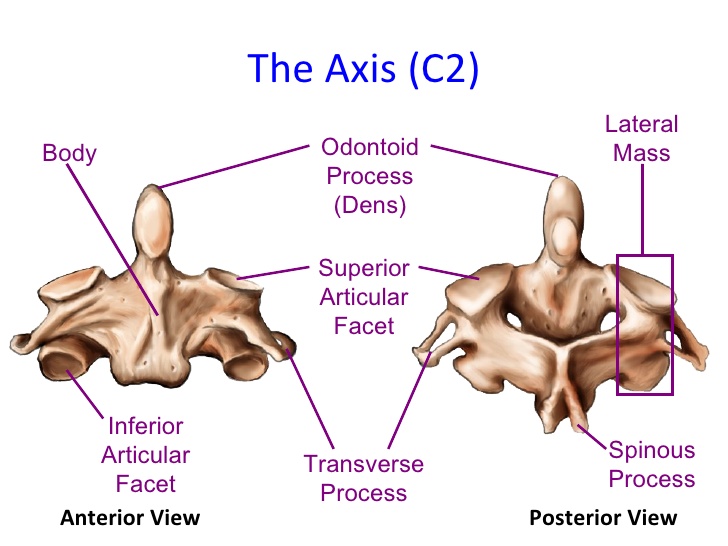 Gross anatomy & Bony Landmark of Second Cervical Spine
The second cervical spine(C2) is formed by a body with the attached dens, a posterior neural arch, two lateral masses and a large spinous process, which is commonly bifid.
Anterior components of the axis are composed of-
Dens- conical in shape
Body
Lateral mass
Transverse process with foramina transversarium
Superior articular facets
Inferior articular facets
Posterior components of the axis are composed of-
Pedicle
Lamina
Spinous process
Posterior elements of the axis has several muscle attachments
Semispinalis cervicis
Rectus capitis posterior major
Inferior oblique
Articulations of Second Cervical Spine
Superior articular facet with inferior articular facet of C1
Dens articulates with the posterior aspect of the anterior arch of C1
Uncovertebral articulation with C3
Inferior articular facet with superior articular facet of C3
Relations of Second Cervical Spine
Anteriorly
Anterior longitudinal ligament
Anterior atlanto-axial membrane
Posteriorly
Posterior atlanto-axial membrane
Ligamentum nuchae
Posterior to dens-important ligamentous structures are attached to the dens and play an important role in C1/C2 stability
Cruciate ligament: transverse ligament provides the most stability retaining the dens in contact with the atlas (C1)
Alar ligament
Apical ligament: embryological remnant of the notochord
Accessory ligament
Laterally
Vertebral arteries and veins
Traverse foramina transversarium moving laterally
Supero-posteriorly
Centrally
Spinal cord traverses vertebral foramen
Basivertebral veins