Hip abduction is a significant movement of the leg apart from the midline of the body. Hip abduction exercises are necessary because they strengthen the muscles that secure the femur into the hip joint. We practice this action every day while we walk to the side, get out of bed, and get out of the car.
To work the hip abductor muscles, perform hip abduction exercises three times a week. The hip abductors are essential muscles that provide our ability to stand, walk, and rotate our leg with ease.
Not just can hip abduction exercises assist you to get a tight and toned backside, but they can further assist to prevent and treat pain in the hips and knees.
The hip abductor muscles include-
Gluteus Medius
Gluteus Minimus
Tensor Fascia Lata
Hip Abductor Muscles
Gluteus Medius
Gluteus medius is positioned on the lateral aspect of the upper buttock, below the iliac crest of the hip bone. Gluteus medius is an essential muscle in walking, running and single leg weight-bearing.
Origin: Gluteus medius originates from the dorsal ilium inferior to the iliac crest.
Insertion: It inserts into the lateral and superior surfaces of the greater trochanter.
Action: Major hip abductor of the thigh; anterior fibers of the gluteus medius help to rotate hip medially; posterior fibers support to rotate hip laterally.
Nerve Supply: Superior gluteal nerve (L4, L5, S1)
Gluteus Minimus
The gluteus minimus is the tiniest of the three gluteal muscles and lies beneath the other two muscles in the buttock area. This muscle stabilizing the pelvis during walking or running and abducting the thigh while the leg does not weight bearing. The gluteus minimus is one of the subsidiary muscles that can provide the hip extension.
Origin: The gluteus minimus originated from dorsal ilium within inferior and anterior gluteal lines; including the edge of the greater sciatic notch.
Insertion: It inserts into the anterior surface of the greater trochanter.
Action: The gluteus minimus abducts and medially rotates the hip joint.
Nerve Supply: Superior gluteal nerve (L4, L5, S1)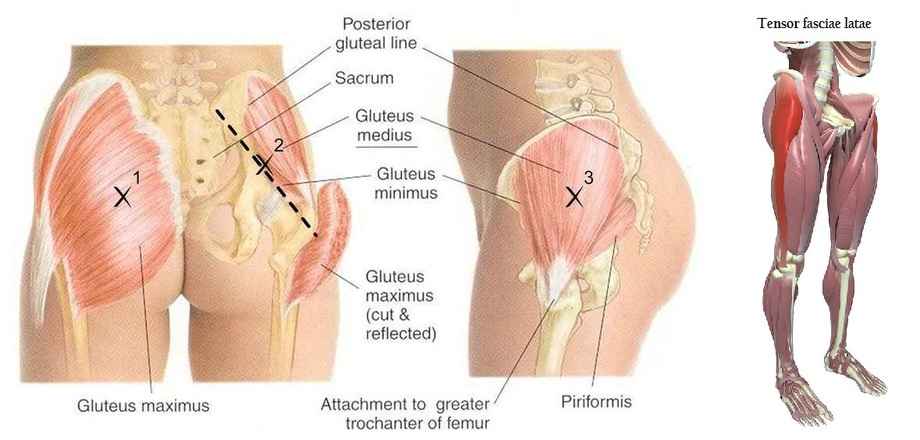 Tensor Fascia Lata
The Tensor Fascia Latae commonly referred to as the TFL is a small muscle that placed just in front of the hip joint.
Origin: The Tensor Fascia Latae originates from the anterior superior iliac spine, outer lip of the anterior iliac crest and the fascia lata.
Insertion: It inserts into the Iliotibial band.
Action: Helps stabilize and steady the hip and knee joints, Flexion of the hip and Abduction of the hip.
Nerve Supply: Superior gluteal nerve (L4, L5, S1)
Hip Abductor Muscles Stretching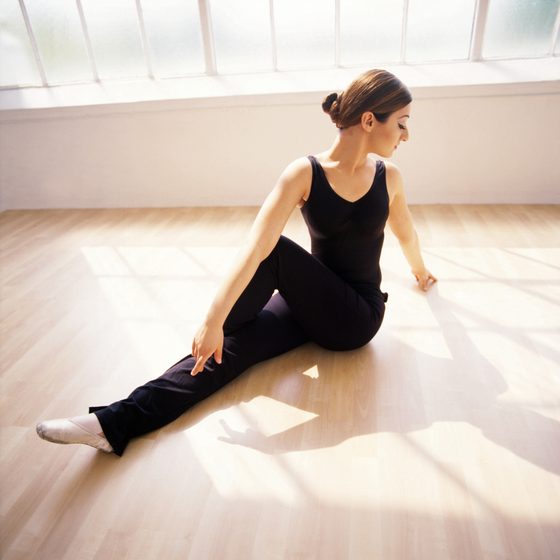 Hip Abductors Exercises
Hip abduction occurs when the femur moves out to the side and aside from the body. Hip abduction trains are important because they strengthen the muscles that stabilize the hip joint. To use the hip abductors muscle, perform the hip abduction trains three times a week. These exercises will require and tone hip abductors muscle.
Squat Walks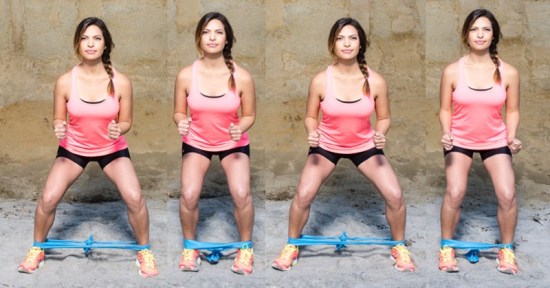 Tie an elastic band around your ankles, such as a rubber band. Make a sure start with low resistance and progressively to heavier resistance. Hold with your hands on your hips and feet hip-width apart. Bend your knees 45 degrees.
Standing Side Leg Raises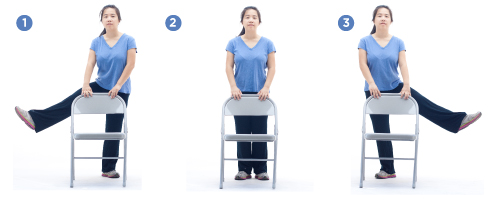 Stand with your feet slightly wider than hip-width apart. Raise your left leg as high as possible. Keep your left hip extended and your left leg straight. Gently lower your left leg on the floor. Complete 20 repeats. Switch to another side.
Side Leg Raises
Lie on your right side on the floor. Place left hand on the floor in front of your chest. Gently lift your left leg into the air as high as you can. Gradually lower your leg down and complete 20 repetitions. Switch to another side.
Other's Hip Abductor Muscles Strengthening Exercises
Hip Abduction by Hip Abductors Machine
We have spotted people with some of the most buff butts on Instagram doing an exercise that doesn't work better than squats. It's a special way to use the gym's hip abductors machine where you sit with a cushion stuck against each outer thigh and spread your legs to use the hips, butt, and outer thighs.
During hip abduction, we target the three hip abductors muscles of the butt, collectively referred to as the glutes by most athletes. These three muscles are the gluteus maximus, gluteus medius, and gluteus minimus.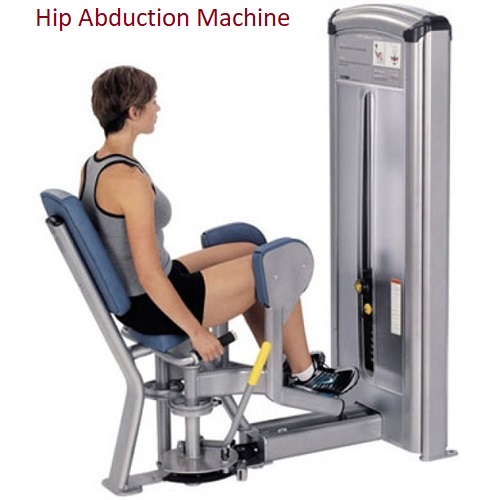 The largest of those muscles is that the gluteus maximum, which makes up the bulk of the backside.
This muscle is thick and powerful, and we recruit it during the extension of the hip. It locates the other two glutes to the outer region of the butt and is mainly responsible for hip abduction and rotation.
Preparation
Set the pin to the amended resistance on the weight stack and adjust the pads.
Sit on the bench and put feet on foot holders.
It presses position thighs to the outside of the pads
Release the pedal
Execution
Abduct the thighs to push the legs apart.
Once your legs fully abducted, slowly alter the movement to come back to the starting position.
Repetition for the demanding number of repetitions.
The following are the top-rated hip abductors machine:
Powertec Fitness Leg Press
FEATURES
Safe, compact, and high weight potency are, however, two parts of the Powertec Leg Press. Being one amongst the foremost compact x degree leg press machines on the market, this machine offers a thousand pounds. capacity. This leg press still takes place with twin safety catches on either side, a large foot plate, associated with an adjustable back for diverse leg press positions.

The P-LP16 may be a should have for each home gymnasium. The PowerTech Leg Press incorporates a revolutionary carriage system for smooth weight training expertise. The high enduringness carriage by a roller system that includes bearing driven nylon strengthens wheels for the ultimate in smoothness and stability. The carriage has four weight horns with a combined capacity of up to 1,000lbs (Weights, sold-out separate ).
Body Solid Inner and Outer Thigh Abductor or Adductor
Combines each abductor and adductor muscle exercises in one sitting position. 5 range of motion changes to accommodate users of all sizes. No cable amendment style with swiveling knee pads provides comfort and convenience. Side stability handles for higher positioning. 210 pounds' weight included.
Nautilus Leg Abduction or Adduction Machine
Nautilus Leg Abduction-Adduction Machine has options for providing additional muscle loading and isolation and spine safety. Its compact structure permits more room in your home gym, whereas adjustments to the seat are swift with its pull-and-pin system. It includes an adjunct tray for personal effects. top it off with its semitransparent housing unit for weight stacks (5-pound increment). The attention to detail is great with its 11-gauge steel construction, belt drive system, double-sealed bearings, four-bar linkage, and ultra-low friction guide rod bearings.
Dimensions of Leg Abduction/Adduction Machine: 65″ x 31″ x 58″ with weight: 441 pounds. Manufacturer's warrant one Year Labor; Six Months Wear; Five Years Major/1 Year Minor Components Ten Years Frame.
Bodymax Pro II Leg Abductor or Adductor Machine
Bodymax professional II Abductor and adductor muscle machine could be a nice unit that mixes each inner and outer thigh exercises. Comes complete stability handles, instruction placard, and intense 170lb weight stack and stack guard. The Bodymax professional II emphasizes high-quality elements polished to a superb normal, and most machines feature with user Instruction placards. The Bodymax pro-II is superb for schools, colleges, workers fitness suites, offshore hotels, military, and blue light-weight services. Weight Stack: 77Kg (170 pounds) appropriate for industrial use.
Valor Fitness CA-30 Fitness Equipment
The Valor Fitness CA-30 Leg Stretch Machine is a necessary piece of apparatus for your home athletic facility. whether your intention is to deliver a lot of powerful high kick or to enhance your athletic snap, the CA-30 can enhance the flexibleness of quads, hamstrings, and hip abductors.
Constructed industrial steel for strength and sturdiness and high-density, dual-layered padding. Designed with a unique wheel and equipment system that stretch at your own pace. adjustments happen smoothly from the vinyl wheels at each leg frame. It's designed a seat pad to point out the degrees for the user to progress and increase flexibility. The CA-30 offers the chance to increase over 180-degrees to require in users at any flexibility level. The back pad has two adjustments to support the option to take a seat up or tilt back reckoning on that place feels more comfortable. It places three pegs on the within of each leg pad to regulate the hand grip for advantage to forward fold or to focus one side/muscle group at a time. Two wheels in the back of the unit permit the user to raise the front of the machine and move it around their home-gym. warranty the three-year frame, the two years for padding and one-year for hardware.
Body-Solid Pro Clubline Series II Thigh Machine
Body-Solid Pro-Clubline Series II Inner and Outer Thigh Machine – Designed to produce an intense exercise whereas eliminating the strain, the Pro-Clubline Series II items are arduous to beat. An easy and convenient step in entry makes getting started a breeze. Thick, comfy DuraFirm pads scale back fatigue and discomfort, permitting you to stay working out. It delivers rock-solid support and stability via heavy-gauge steel frames with all-4-side welded construction. The totally shrouded weight stack offers a secure and engaging machine that's absolute to be a success in any commercial gymnasium facility.
Quantum Hip Abduction or Adduction
Incorporating over twenty-five years of modern style and backed with several multi-patented exercise machines; The I series from Quantum can meet all of your single source needs. Quantum's I series strength line could be a complete multi-faceted system of strength machines able to fully serve your trainers and facility by providing foremost strength solutions for several users.
Uniquely designed opaque pastel shrouds permit full user privacy; safety keeps your facility bright and welcoming. Low profile stance, a tiny low footprint, combined with multiple decisions of combination, single station machines and one among a form of nice proprietary machines, sets the I series way especially others. All I series machines boast an assured, natural movement and permit for max muscle vary of motion. It angles meticulously designed hand grips and foot platforms to stay joints in a neutral position, reducing joint stress and maximizing a secure workout experience. Clear, simple, and epigrammatic user instruction plaques, besides visually integrated graphics style, glide the user through the exercising. Optional, integrated 5lb increment plate permits for a gradual increase of resistance for the exercising and ends up in faster Quantum Hip Abduction /Adduction machine enhance strength gains.