DPP-4 Inhibitors (Gliptins): The dipeptidyl peptidase-4 (DPP-4) inhibitors are newer oral tablets for the treatment of type 2 diabetes. The dipeptidyl peptidase-4 (DPP-4)  inhibit the breakdown of glucagon-like peptide-1 (GLP-1) and increase the incretin influence in patients with type 2 diabetes.
The first dipeptidyl peptidase 4 (DPP-4) inhibitor sitagliptin was approved as the treatment of diabetes concurrently with lifestyle changes in 2006.A combined product of sitagliptin and Glucophage was approved by the U.S. Food and Drug Administration in 2007. The second DPP-4 inhibitor, saxagliptin, was approved in the U.S.
In clinical practice, they are associated with notable decreases in HbA1c, no weight gain and a low chance of hypoglycemia. Primary cardiovascular safety considerations have shown no increase in cardiovascular risk.
How DPP-4 work?
They work by blocking the action of DPP-4, an enzyme which destroys a group of gastrointestinal hormones called incretins. Incretin is a natural hormone that body produces.Incretins help stimulates the production of insulin when it is needed and reduce the production of glucagon by the liver when it is not needed. Insulin lowers blood sugar.They also slow down digestion and decrease appetite.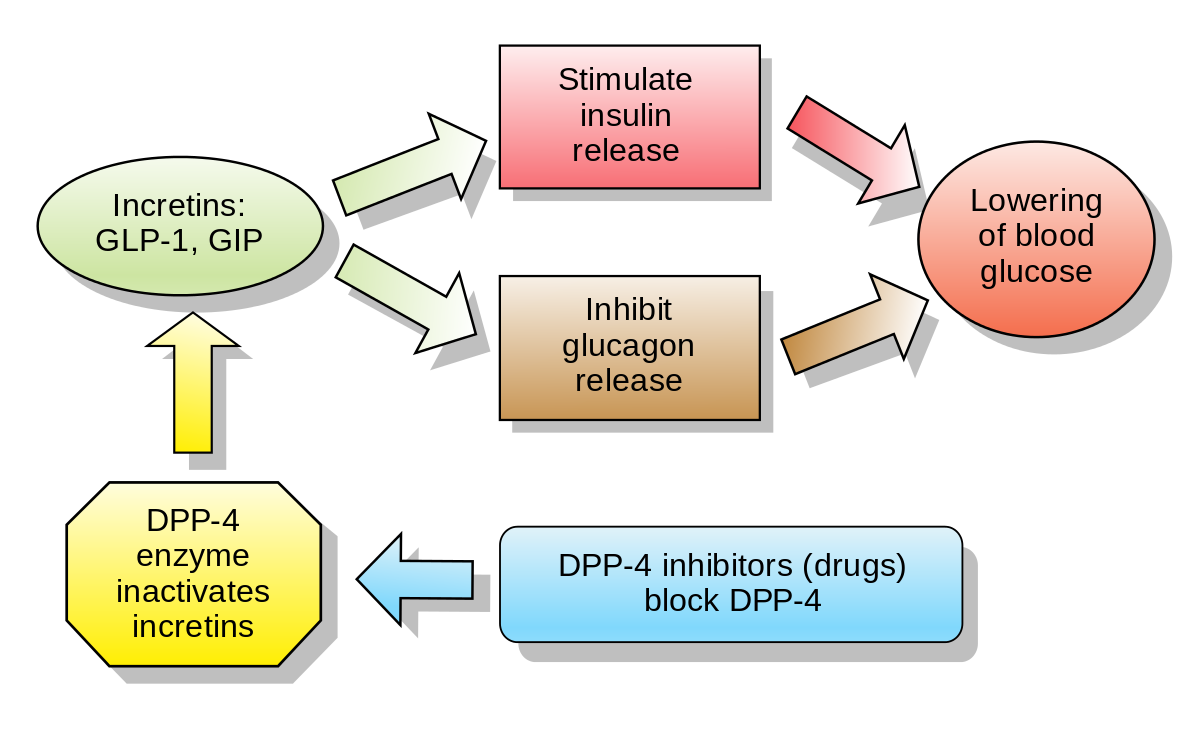 DPP-4 inhibitors are a second or third line medication for people with type 2 diabetes after prescribing metformin and sulphonylureas and as an alternative to thiazolidinedione medication.
List of Dipeptidyl peptidase 4 inhibitors
This drug class includes following the medications
Linagliptin(Tradjenta)
Alogliptin(Nesina)
Saxagliptin(Onglyza)
Sitagliptin(Januvia)
(First generic name then brand name)
Sometimes these drugs are mixed with other diabetes drugs in one pill.
Jentadueto is a diabetes drug that combination of linagliptin and metformin.
Janumet is a diabetes drug that combination of sitagliptin and metformin.
Kazano is a diabetes drug that combination of alogliptin and metformin.
Oseni is a drug that combination of alogliptin and pioglitazone.
Juvisync is a diabetes drug that combination of sitagliptin and simvastatin, a cholesterol medicine.
Komboglyze is a combination of saxagliptin and metformin.
Adverse effects of DPP-4 inhibitors
Flu-like symptoms – runny nose, headache, sore throat
Gastrointestinal problems – including nausea, stomach pain, and diarrhea
Skin reactions – painful skin followed by a red or purple rash
DPP-4 inhibitors have been an increased risk of pancreatitis.