Cervical Collar:Types,Indication & Hazards
Cervical Collar: A cervical collar or neck brace is a medical equipment used to support a neck. It is also practiced by emergency for those who have had the traumatic head or neck injuries and can be applied to treat chronic medical conditions.
Cervical collars are also employed therapeutically to help realign the spinal cord and relieve pain, although they are usually not worn for long periods of time.
Cervical Collar Types:
There are various types of collars according to the support and indications.
Soft collar or standard cervical collar
Soft collar or standard cervical collar is made from foam covered with stockinet and has a Velcro strap for assistance. It is done for minimal cervical spine injury.
You May Also Like:
Philadelphia collar
Philadelphia collar is a two-piece collar. One part is the back part of the neck whereas the other is for the front part and has a Velcro on left and right sides for easier removal and attachment. The total cervical arch support helps in keeping cervical alignment. It is specially contoured for best stabilization and comfort. It is has a chin rest to make it suitable for the wearer and to provide more immobilization.
Miami-J collar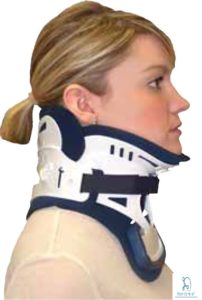 Miami-J collar is very much comparable to a Philadelphia collar but can have a thoracic extension brace to protect also the thoracic spine, providing more protection to the spine. It also has a front and back parts, also having a hole for tracheostomy purposes.
Thomas-Type collar's
Thomas-Type collar's material is manufactured from vinyl plastic and has several small holes to give ventilation. This type of brace is comparable to the soft collar but provides a more rigid support because of its material.
Aspen collar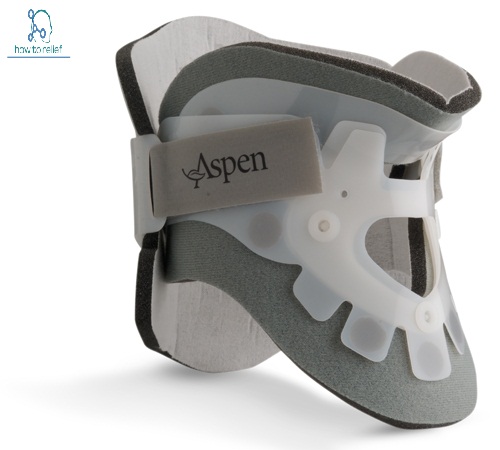 Aspen collar is comparable to both Miami-J and Philadelphia types but the padding material applied to the inner surface is a lot breathable than the other types. It also comes with a hole for tracheostomy purposes.