Cardiac Conduction System: The musculature of the atria and ventricles is capable of contracting spontaneously. The cardiac conduction system initiates and coordinates contraction. The conduction system consists of nodes and networks of specialized myocardial cells organized into four basic components:
1.the sinu-atrial node
2.the atrioventricular node
3.the atrioventricular bundle with it's right and left bundle branches
4.the subendocardial plexus of conduction cells (the Purkinje fibers)
The unique distribution pattern of the cardiac conduction system establishes an important unidirectional pathway of excitation/contraction. Throughout its course, large branches of the conduction system are insulated from the surrounding myocardium by connective tissue. This tends to decrease inappropriate stimulation and contraction of cardiac muscle fibers.
The number of functional contacts between the conduction pathway and cardiac musculature greatly increases in the subendocardial network.
Thus, a unidirectional wave of excitation and contraction is established, which moves from the papillary muscles and apex of the ventricles to the arterial outflow tracts.
Sinu-atrial node
Impulses begin at the sinu-atrial node, the cardiac pacemaker. This collection of cells is located at the superior end of the crista terminalis at the junction of the superior vena cava and the right atrium. This is also the junction between the parts of the right atrium derived from the embryonic sinus venosus and the atrium proper.
The excitation signals generated by the sinu-atrial node spread across the atria, causing the muscle to contract.
Atrioventricular node
Concurrently, the wave of excitation in the atria stimulates the atrioventricular node, which is located near the opening of the coronary sinus, close to the attachment of the septal cusp of the tricuspid valve, and within the atrioventricular septum.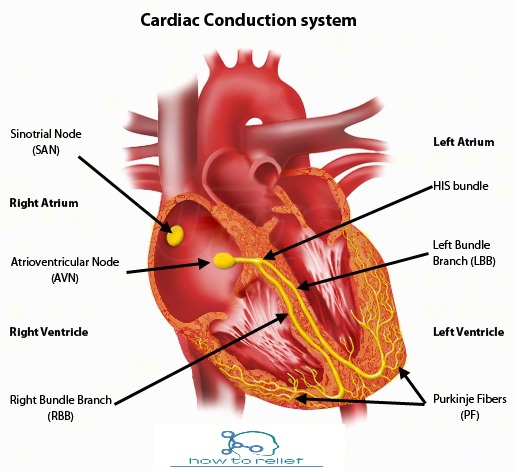 The atrioventricular node is a collection of specialized cells that form the beginning of an elaborate system of conducting tissue, the atrioventricular bundle, which extends the excitatory impulse to all ventricular musculature.
Atrioventricular bundle
The atrioventricular bundle is a direct continuation of the atrioventricular node. It follows along the lower border of the membranous part of the interventricular septum before splitting into right and left bundles.
The right bundle branch continues on the right side of the interventricular septum toward the apex of the right ventricle. From the septum, it enters the septomarginal trabecula to reach the base of the anterior papillary muscle. At this point, it divides and is continuous with the final component of the cardiac conduction system, the subendocardial plexus of ventricular conduction cells or Purkinje fibers. This network of specialized cells spreads throughout the ventricle to supply ventricular musculature including the papillary muscles.
The left bundle branch passes to the left side of the muscular interventricular septum and descends to the apex of the left ventricle. Along with its course, it gives off branches that eventually become continuous with the subendocardial plexus of conduction cells (Purkinje fibers). As with the right side, this network of specialized cells spreads the excitation impulses throughout the ventricle.