Batten Disease: Batten disease is a rare, progressive, neuro-degenerative disorder, that typically begins in childhood. Early manifestations of Batten Syndrome usually seem between the ages of 5 and 10 years, while parents or physicians may discern a previously normal child has begun to develop vision problems or seizures, and Batten disease severely reduces life expectancy.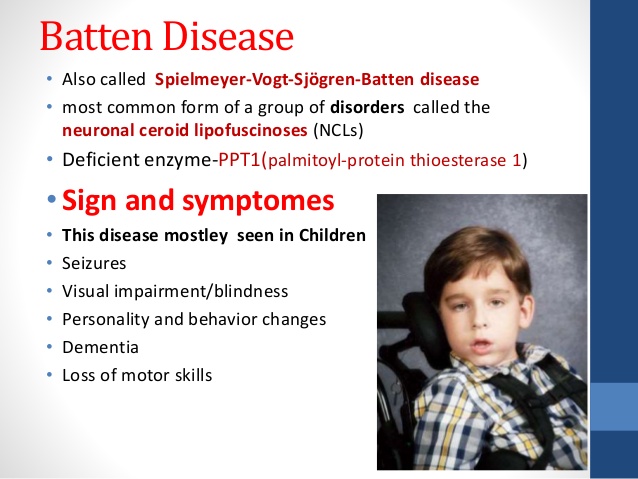 Batten Disease Causes
Batten disease & NCLs are responsible for the majority of neurodegenerative diseases that affect children. The specific type of NCL is characterized by the age of symptomatic onset and genetic mutation involved.
Batten disease and other NCLs are linked to an increasing accumulation of substances known as lipofuscins (lipopigments) in the body's tissues. These lipopigments are formed up of fats and proteins. The lipopigments build up in cells of the brain and the eye, skin, muscle, and many other tissues. The accumulated lipopigments in Batten disease and the other NCLs form notable appearances that can be seen under an electron microscope. Some look like half-moons, others like fingerprints. The specific appearance of the lipopigment deposits can be useful in conducting further diagnostic tests that may identify the specific gene defect.
Batten Disease Symptoms
Initial signs and symptoms of the Batten disease usually appear around ages 2–10, with gradual onset of vision problems, or seizures. Batten disease symptoms vary but are progressive. They include:
Speech and swallowing problems
Diminishing cognitive function
Difficulty sleeping
Loss of mobility
Poor circulation in lower extremities
Decreased body fat and muscle mass
Teeth grinding
Constipation may occur
Batten Disease Diagnosis
Vision impairment is the most common observable Batten disease symptom to detect Batten syndrome. A fundus eye examination that aids in the detection of common vision impairment abnormalities, such as the granularity of the retinal pigment epithelium in the central macula will be performed.
Blood or urine tests-elevated levels of dolichol in urine have been found in many individuals with NCL. The presence of vacuolated lymphocytes—white blood cells that contain holes.
Skin or tissue sampling- typical NCL deposits. These deposits are common in tissues such as skin, muscle, conjunctiva, and rectum.
Electroencephalogram (EEG) -medical experts to analyze electrical pattern activity in the brain. EEG assists in observing if the patient has seizures.
Electrical studies of the eyes -visual-evoked responses and electroretinograms are effective tests for detecting various eye conditions common in childhood NCLs.
Computed tomography (CT) or magnetic resonance imaging (MRI) -both diagnostic imaging test can help reveal brain areas that are decaying, or atrophic, in persons with NCL.
DNA analysis can be used to help confirm the diagnosis of Batten syndrome.
Measurement of enzyme activity- elevated levels of palmitoyl-protein thioesterase is involved in CLN1. Acid protease is involved in CLN2. Cathepsin D is involved in CLN10.
Batten Disease Treatment
Batten disease treatment involves managing batten disease symptoms to maintain as good a quality of life as possible. Research is on-going but currently, there are no cures or therapies. Seizures can sometimes be reduced or controlled with anticonvulsant drugs and physiotherapy can help maintain function for as long as possible.
The U.S. Food and Drug Administration recently approved Brineura (cerliponase alfa) as a Batten disease treatment for a specific form of Batten syndrome. Brineura is the first FDA-approved medication to delay loss of walking ability with late infantile neuronal ceroid lipofuscinosis type 2 (CLN2), also known as tripeptidyl peptidase-1 (TPP1) insufficiency.
The suggested dose of Brineura in pediatric cases 3 years of age and older is 300 mg offered once every other week by intraventricular infusion, followed by an infusion of electrolytes.
Batten Disease Life Expectancy
Over time, affected children suffer the loss of their sight, worsening seizures, mental impairment, and gradual loss of motor skills. Ultimately, become bedridden, require 24-hour care, and die prematurely. Batten Disease Life Expectancy based on, how quickly symptoms develop and the length of the course of disease depends on symptom start of the classic forms of Batten syndrome.
Classic forms of Batten Disease
Infantile
Age of onset-6 months to 2 years old
End of life-Mid-childhood
Late Infantile
Age of onset-2 to 4 years old
End of life-8 to 10 years old
Juvenile
Age of onset-5 to 10 years old
End of life-Late teens the too early 20s
Adult
Age of onset-25 to 43 years old
End of life-Normal lifespan